We believe in simple software. Simple to install. Simple to use. Software that lets you get on with your business, because your time is important. That's why when you install and setup Capesoft Email Server, you'll do nothing but the very bare essentials to get going.
CapeSoft Email Server is designed to do one thing - be an email server. While email can be a complex topic, the CapeSoft Email Server makes it as easy as possible to get a server up and running, without necessarily understanding everything there is to know about email.
I downloaded a copy of your Email Server software yesterday, and I must say it was the easiest email server application that I have ever setup. I tried about 6 or 7 apps before I found yours, and so far so good. Easy to setup, easy to configure the domains and mailboxes, extremely user friendly!!!
- Max Paltsev, USA
Congratulations on the easiest e-mail server I have ever had to set up.
- Jimmy Lishman, South Africa
Saves you losing time tracking lost email
An Email Server must just work. Run in the background, without requiring interference and management. Send and receive all the mails.
All
the mails - because let's face it - emails are crucial, for business, for sales, you name it.
I am the sysadmin for a small company in the UK. We bought your email server about two years ago and I can honestly say it's about the only bit of software that just worked from day one. Well done.
- Paul Scott, UK
This email server is the dogs bollocks. Absolutely superb. Well done. Fast, stable, and easy to operate. Unlike me.
- Keith Brook, UK
Saves you time in configuring -
because there's no ceiling on the amount of users
There's nothing more frustrating than hitting a limit on mailboxes when you need them, that's why you can have as many mailboxes as you like. No limits. Just keep adding them. Aliases, mailboxes, groups - that's what a business needs.
I am very impressed with your software. I tried several server programs for our small business. Most didn't do what we needed or were difficult to configure. All were too expensive for our companies needs. Your software is easy to use and does everything we want at a price that's hard to believe. Our old server software used to crash on a daily basis and took up my time to maintain. Your software is as stable as can be and never needs my attention.
- Ed Pitcher, USA
I have just purchased your Capesoft Email Server software and installed it. Let me mention that it is a great product and I am really very fond of it. Very easy to install and implement and working flawlessly. I have used various mail servers before, ... yours is really the best buy, when one compares its features to its price.
- Servet Cevik, Istanbul, Turkey
Will not let you down -
not yesterday, today or tomorrow.
We've been in the software business since 1991 - creating dependable, solid products. We pride ourselves in our reputation for good support, and quality products. Products that mature and develop with age. That's why when you buy a CapeSoft product, you're buying more than just the product.
This is the definition of responsiveness to a client. Thank you! The Capesoft reputation as "best in the business" is certainly deserved.
- John Scott, USA
If CapeSoft announces that they have a new piece of software that will turn lead into gold - just sign me up! Demo not required!
- Charles Edmond, USA
Newbies, if you are hesitating, you can trust Capesoft and their products.
- Kelvin Chua, Singapore
CapeSoft Email Server features
A fully working

Email Server

including

SMTP server (email sending)

and

POP3 server (email collecting).

Free 60 day shareware trial

(Download Email Server)
Direct

MX SMTP

and/or

SMTP Relay

Sending. Ideal for permanent connections (Broadband / ADSL / DSL) and Dial-Up users. Home Edition only supports relay sending.
Works with

ADSL / Broadband

or via modem

dial-up schedule.

An

easy to use

interface and a

configuration wizard

which makes setting up this Email Server so easy.
An incredible

attractive pricing scheme

(one low price, no mailbox or user limits for Small Business Edition).

Free product upgrades

(buy this Email Server once, and update as often as you like for free).
Works with all email clients (e.g. Outlook, Outlook Express, Netscape email client, Eudora etc.).
Runs on all 32-bit and 64-bit versions of Windows (Windows Server 2008, 2003 and 2000. Windows Vista, XP, 2000, NT4, ME, 98 and Windows 95).
Business Edition provides a

web based admin interface

(see the Version Comparison for which version is right for you)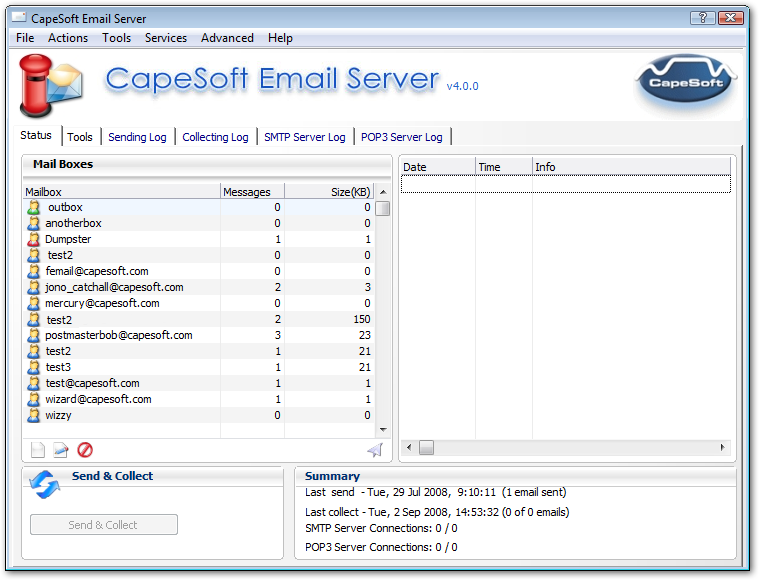 Take a look at some more screenshots
here
.
Software Developers:
Please note that the Source Code to this email server and a Developers Edition are also available.

More details about Email Server Source Code and Developer Edition
.
What People Are Saying...
I purchased the email server ... and I must say it looks great, you have certainly done a lot of work and you obviously know your stuff. Well done. - John Milson, Sydney.
I purchased the Full Source Code Version and it works 100% - Johan De Klerk, South Africa
It's really great! Thanks, exactly what I need! - Menno de Ruiter, Spain
We have recently downloaded a Trial version of your Email Server, I would like to take this opportunity to express how easy-to-use I have found both the application itself and your website. Your piece of software is ideal for our needs and we have almost certainly made the decision to purchase your software later this week. - Matt Creak, England, UK
Did I already mention what a great product this is? :) I've been using email servers since 1994 and have messed with IMail, NTMail, SendMail, PostOffice, Exchange since V5, Merrick, and several others that I can't remember. Yours is by far the easiest to setup that I've seen. I've only been running it for three days, but it appears to be very fast and reliable. Keep up the great work - Randy Martin
Brilliant software, the most effective email solution we have ever found.
Keep up the good work! - Gavin Glover, UK
If you're still not sure whether it's the right thing for you, you can try before you buy.
CapeSoft Email Server installs with a
free 60 day fully-functional
shareware trial license. Please download a copy from the
here
.
Even if you buy the Email Server after the 60 day period, and discover it's not more than you expected, we'll rather take it back (with a full refund) than force you to keep something you're not happy with. That's because we believe in happy customers (please see our
Refund Policy
for more details).
Buy CapeSoft Email Server - Purchasing Instructions
If you have not yet downloaded and installed a copy of CapeSoft Email Server - then we'd really like you to do that
before
you buy it. That's because we would like you to put it to the test. Try it. Give it a thorough work out - and if 60 days is not a long enough demo period for you, let us know - and we'll extend it. We don't want you to buy it, until you are
100% satisfied
with the quality of this product, because we believe in happy customers.
Download
it right now for a free 60 day fully-functional demo and put us to the test.
If you are already 100% convinced that CapeSoft Email Server is more than what you will need, then you can purchase a copy through our secure online store: Get Business Edition from
www.clarionshop.com
for
$177
. $177 too much? Then take a look at Home Edition for
$47
, also from
www.clarionshop.com
.
(Quoted prices subject to change)
For those who are upgrading from CapeSoft Email Server 3, you are able to upgrade to the CapeSoft Email Server 4 Business Edition with your current licence code. There is no upgrade fee, and no new activation code is required for the upgrade.
Email Server Version Comparison
CapeSoft Email Server is available in two versions - Home Edition, and Business Edition.
| | | |
| --- | --- | --- |
| | Home | Business |
| Mailbox limit | 25 | Unlimited |
| Direct (MX Sending) | No | Yes |
| Web (HTTP/s) Admin interface | No | Yes |
| 1 Hour setup support | No | Yes |
Buy Online
For pricing and to buy Email Server please click on the desired version below:
Business Edition
- $177
Home Edition - $47
(Please note all prices are in US dollars, and are subject to change)
Buy with Confidence
: See our
Refund Policy
&
Free Upgrade Policy
Software Developers
If you are a Clarion developer and would like to find out about including the CapeSoft Email Server into your application, then click
here
for more details.
CapeSoft Contact Details
CapeSoft Support
Email
Telephone
+27 21 715 4000
Fax
+27 21 715 2535
Post
PO Box 511, Plumstead, 7801, Cape Town, South Africa
Free Upgrade Policy
CapeSoft products have always had a free update policy. You pay for Capesoft Email Server once and updates and patches for the current version are free.
CapeSoft Refund Policy
CapeSoft believes that if you aren't satisfied with our products, we would like them back - and we will refund you the money - even up to a year after your purchase date. This allows you to purchase our products with confidence. Try out a
fully functional 60-day trial license
, which should give you plenty of time to see what an incredible Email Server solution this is for your needs. Even if 60 days is not long enough, please contact

and we will gladly extend your trial period.
Copyright & License Agreement
This software is copyright. This means that after the 60 days evaluation you should only use this software if you have paid for it. One license is required for each copy that you run. i.e. If you are running this program on three computers you need to purchase three licenses.
If you need more than 60 days to evaluate the product please contact

for an extended free trial period.
CapeSoft Software, employees of CapeSoft Software, Dealers of CapeSoft Software products, Beach Palm Software cc, and employees and associates of Beach Palm Software cc explicitly accept no liability for any loss or damages which may occur from using this package. This package is used entirely at your own risk.

All rights reserved.
Warning: This computer program is protected by copyright law and international treaties. Unauthorized reproduction or distribution of this program, or any portion of it, may result in severe civil and criminal penalties, and will be prosecuted to the maximum extent possible under the law.
Use of this package constitutes agreement with this license. Please contact

should you have any queries.